Marina Blue Nursery proudly announces the arrival of a new sweet princess baby girl Freja!
Freja was born on January 15, 2009

Weight: 4,85 lbs (2 kg 200 g)
Length: 20,5 inch (52 cm)


Sweet little princess Freja started her life as a Limited Edition doll kit "Newborn Cherish " created by world famous doll artist Tina Kewy.
The kit is SOLD OUT!!!
Her number is 256 of 500!
Freja's head and limbs are made of soft "Simply Reborn" vinyl. She has 3/4 arms and full legs.
Freja's body is a jointed special, doe-suede body from Spearsons, specially designed for this kit.
She is painted with Genesis paints and mediums to achieve realistic look.

I took many pictures using daylight lamps to show how she looks as close to the reality as possible! There is no opportunity to take natural light photos at this time of the year here in Sweden!








Freja's body and limbs were weighted with poly pellets, safe baby fat, tiny glass beads and micro fiber of the highest quality to feel and weight like a real baby. I never use sand in my babies so they can travel abroad!
Freja has a magnetic pacifier and a magnetic hair bow.


Freja's hair has been micro rooted, only 1-2 hair straws at a time with the highest quality premium wavy natural blond mohair (not bleached or dyed!). It is so soft and feels just like real baby hair. The hair has been sealed on the inside with waterproof glue so it can be brushed, gently moistened and styled in many different ways!
I use the thinnest possible barbless rooting needles from Germany and it takes many hours and days until I feel that I am happy with the result ... Freja's eyelashes are made of natural blond human hair.
Here you can see some close ups of Frejae's hair



Freja wears size 0-3 months clothes and it will be fun to buy real baby clothes for her.
I use only the best quality non-toxic art products for my babies.
Freja has a magnetic pacifier and a magnetic hair bow.

Freja comes to her new home with:
2 pcs Pink Dress and Leggins set
Hello Kitty 2 pcs Outfit
Pink Velvet Dress from Cubus
Pink Fake Fur Coat from Cubus
Pink onesie from Juha
Booties with 3d Applique
Da-Da Ping Bear Rattle
Name Bracelet
Magnetic pacifier
Magnetic hair bow
Diaper
Original LE Certificate
Marina Blue Nursery certificate,
birth certificate and care instructions.
+ lots of love :)

Marina Blue Nursery is 100% Smoke Free!
If sweet baby Freja has touched the strings of your heart please don't miss the chance to adopt her!
There is only one Freja I never copy or reproduce my babies so you can be sure you get an absolutely One Of a Kind baby.













I ship worldwide so please email me for an international shipping quote if you are not sure that your country is included:
Shipping to the USA, Canada and most of the countries outside the Europe is £ 35 Trackable, insurance included.
Shipping To Europe is £ 30, Shipping to the U.K is £ 30 Trackable, insurance included.
I am very happy to ship my babies just about anywhere in the world, but I can not be
responsible for any custom fees or charges.
Sweden is a member of the European Union so no extra customs and fees will be charged within the EU.
För mina svenska kunder:
Leveranskostnad inom Sverige är 165 SEK
Överföring till mitt bankkonto eller bankgiro kan accepteras istället för paypal.
Kontakta mig för detaljer.
Layaway might be available - contact for me for the info.
Please ask questions BEFORE bidding. I will be more than happy to reply to your questions and send more pictures of the baby on request!

Payment is expected under 5 DAYS maximum otherwise the baby will be relisted and the person can be declared as a non paying bidder to ebay. I reserve the right to cancel any inappropriate bids.
If you have 0 feedback please contact me before bidding.
All sales are final!
Refunds only given if my item is grossly misrepresented. I back my work 100%.

Your new baby is NOT a toy and should be handled with care and should not be used as a play doll for children as it is a collectible item for doll collectors.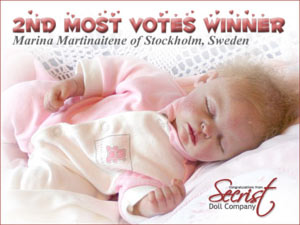 I am a proud member of :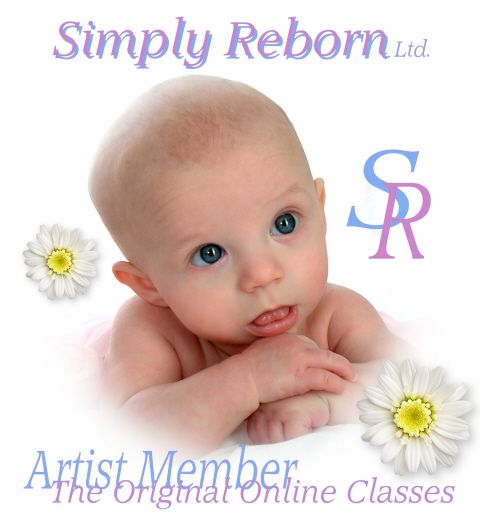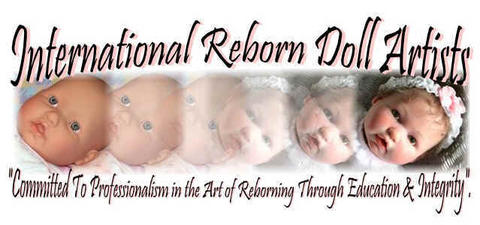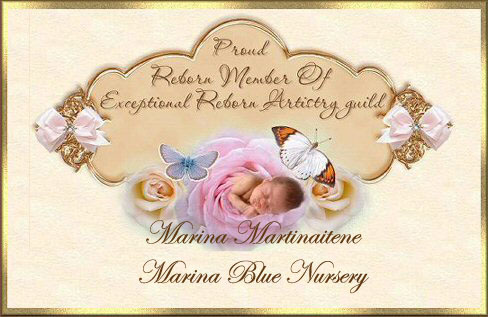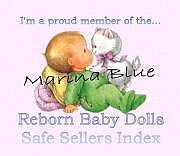 Thank you for visiting!
You are very welcome to visit Marina Blue Nursery to know more about me and see my Adopted babies